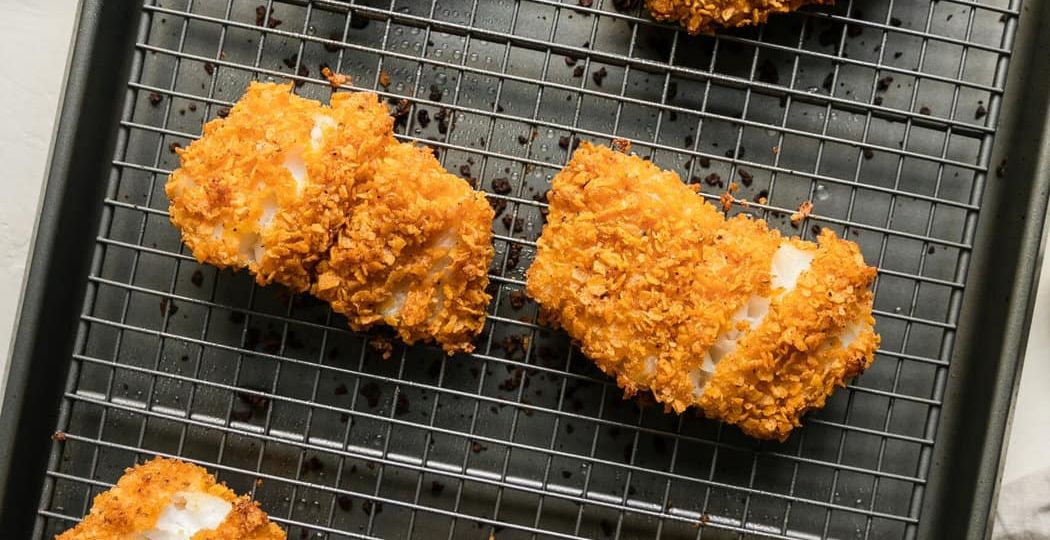 This light, crispy, and tasty baked fish recipe is easy to make and healthy. Best of all, my whole family loved it, including my kids.
You can serve it with a side of veggies and rice or top on a salad. 🧡
Ingredients
1

 to 

1 ½

 lb white fish (I used cod). You can also use chicken

6 oz

 tortilla chips (pieces, crumbles, or whole chips)

1 ½ teaspoon

 garlic powder

½ teaspoon

 onion powder

¼ teaspoon

 paprika

½ teaspoon

 salt

¼ teaspoon

 black pepper

2 

tbsp light mayo
Directions
In a food processor, grind tortilla chips, garlic powder, onion powder, paprika, salt, and pepper until the mixture resembles breadcrumbs.
Rinse fish, pat dry, brush with mayo, and press into tortilla chip mixture (coat all sides).
Mist nonstick cooking spray over the top fish or chicken and bake at 450 degrees on a wire rack on top of a baking sheet for 10-20 minutes (depending on the thickness of the fish).